| | | | | |
| --- | --- | --- | --- | --- |
| | | | | |
| | |
| --- | --- |
| | |
---
¡@
| | |
| --- | --- |
| Page 2 Portable Handsfree For Mobile Phone | 1 2 3 |
---

Item No.: EJ-QC211L-45
Earhook style handsfree
Right / Left side hook optional / With ON/OFF switch or mute function
Packing: Polybag or blister / Available Color Silver and Blue

---

Item No.:

EJ-XG001-50

Earphone type /With ON/OFF switch or mute function / Silver Color
Packing: Polybag or blister

---

Item No.:EJ-QFW005-30
Earphone type / With ON/OFF switch or mute function
Packing: Polybag

---

Item No.: EJ-QC211ML-61
Earhook style handsfree /With ON/OFF switch or mute function
Packing: Polybag,

---

Item No.:

EJ-QC137-32
Earpiece with neck strap
With ON/OFF switch or mute function
Packing: Polybag or blister / Available Color Silver /Black

---

Item No.:

ej-qfw001-12

Earpiece style
With ON/OFF switch or mute function
Packing: Polybag or blister

---

Item No.:

ej-qc116-367-140

Earpiece style
With ON/OFF switch or mute function
Packing: Polybag or blister

---

Item No.:

ej-qq228

Earhook style handsfree With ON/OFF switch or mute function
Portable Handsfree Set
Packing: polybag

---

Item No.:

ej-QQ200B-280

Mobile Phone Voice Recorder
Portable Handsfree Set
Packing: polybag

---

(C)Copyright & copy 2004, Baseband Industrial Co., Ltd. All rights reserved.
Reproduction in any form without prior authorization is prohibited


¡@

¡@
BRAND
MODEL
ALCATEL
One Touch 300/301/302/303/OTE501/500/700/701
OTE311/511/512
AUDIOVOX
130/135/1100/4000/8400/8500/8600/8610/8900/9000/9100/9150/9500/9950
ERICSSON
T10/788/T18/628/738/688/T20/T28/T29/T39/T68/R320/ T610/60/61/62/68I/226/300/306/

310/316/610/616/618/637/310/316/226/237/627/T100/T200/T600/R300/A2218Z/Z200

/Z600/K500I/K700I/P-800/P802/Z600/SONY ERICSSON K700

KYOCERA
1135/1155/2035/2135/2235/2255/2325/2345/3250/5135/6035/7135
KE413/KE433/SE47
LG
1010/1200/Ll200/C1300/3100/3200/4010/4050/4400/4500/4600/5225/5350/5550/6000
LG3000/LG5000
MITSUBISHI
Aria/Aria@
430i (2.5mm Jack)
MOTOROLA
Startac/CD920/928/930
V3688/168/V998/V66/V60/L2000/V50/T191/E365/C350/V3690/P7389/T189/V8088

/T2288/722/V80/C350/V525/V120/V60/V66/V300/V400/V500/V600/V690/V878/C331

/C332/C333/C343/C353/C350/T720/T722/T730

V3
NOKIA
6210/3320/6310/5110/6120/6360/61103285/5120I/5160I/5170I/5180I/5185I/5190/5125/

5165/6110/6120/6130/6160/6190/6185/6310I/6340/6360/6370/6385

8210/3310/3410/5210/7650/8310/3321/V3690/8250/6510/8910/2100/3610/3650/3530/

3315/8260/3360/3590/3395/3595/6590I/8260/8265/8860/8910/6600/3510/3210/3690/

8810

7210/6600/7610/7260/6610/6100/3300/3100/7250/6108/2280/7610/7250I/7210/6820/

6800/6620/6610/6585/6560/6230/6225/6200/6100/5140/5100/3589I/3588I/3587I/3586I/

3585I/3585/3570/3300/3205/3200/3100/2285/2270

NEC
313 ¡]W/SWITCH FOUR POLES¡^
515/525
PANASONIC
GD70/90/30/50/GD87/GD88/X70/G70/SAMSUNG X400
GD92/93/52
X70
PHILIPS
Savvy/128/929/939/969/988/218/828
SAMSUNG
800/SA100/SA400/SA300/200/811/850/LG 510/VX-3100/520/TP5200/LX5350/LG3000

/LG5000/GX500

600/R220/R-225/225M/N-105/Q-105/S225/A288/228/N100/R210/V105/S105
S300/E105/C100/S308/E105/715/X105/S307/T500/SGH S307/E105/E715/P107/X105

/X426/X427/D415/E105/E715/P107/S300/S307/X105/X426/X427

N620 /N240/T108/T100/R208/S508/E700/S105/P400/V200/V-205/V-200/S-100/206/

628/S-105/SGH N60/N625

D500
E808/800/E310
E315/E316/E317
Sagem
MXY5
900/920
Sharp
GX30 (2.5mm Jack,three poles ,with Switch)
SIEMENS
S40
2118/C3508/M3518/S3568/C45/S45/SL45/2118/C35/M35/S35/M46/S46
C55/S55//SL55/2128/S55/M56/A56/C56/S56/SL56
8088/CL50
SONY
J5/J16
Z5/Z18
P900 (2.5mm jack)
¡@
¡@
Introducing a revolutionary new product into the cellular market. The Multi-functional Portable
Handsfree provides convenience at work and is also entertaining.
Recording Conversations: When you are making important phone call, certainly you don¡¦t want to miss any word he/she says, the best solution is record your conversation. With our Multi-functional Portable Handsfree. You are liberated from taking notes or trying to remember details of your conversation. You only need to connect a recording device with microphone input to our handsfree and you can record your entire conversation.
Phone interviews: When you are interviewing someone on the phone, it is highly likely that you will need something to help you take notes of the conversation. The Multi-functional Portable Handsfree solves the problem.
How to work :
Plug 2.5mm jack to Phone ,3.5mm jack plug into any record device .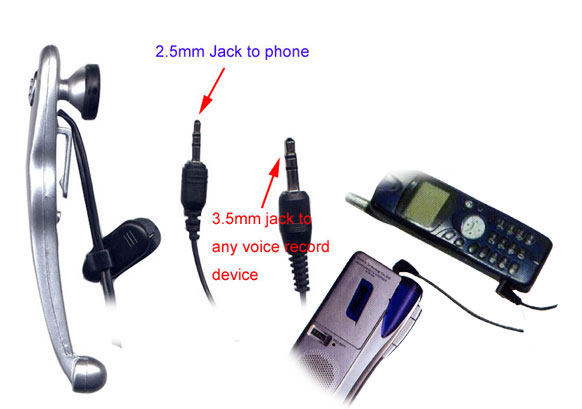 ¡@